Patented

Simple Installation



Replace your Opti-Spark with an all-in-one
crank and cam signal sensing unit. Same installation steps as replacing the original Opti-spark!!

The crank sensor signal comes from an externally mounted 24x reluctor and hub combo. An external reluctor means there is no need to remove the front timing cover!! Swap your hub and your done.

A simple installation means less labour time and doesn't require special skill, tools or dissassembly of major engine components. Install in the drive-way, experience less down-time and have Gen III Engine management now!


---
Plug & Play Technology


LS Gen III PCM & Wiring is reliably installed in minutes.

Simply plug in your existing LT engine harness to the TH 24XLink Gen III PCM and the proper connections are complete.

Take the guesswork, time, errors and cost out of the necessary wiring changes for the LS Gen III PCM.

Your LT1 OEM harness has worked for years and will work for years to come. It is already installed with vast majority of the engine connections already connected...keep it where it is!

Plug in the LS PCM exactly like plugging in the stock LT PCM you have done for years.

Your wiring solution assembled, tested, in stock and ready to go!!


---
Patented

High Performance


Quality OEM 24X Crankshaft and 1X Camshaft sensors deliver uncompromising performance. We use ONLY the best sensors available. Engine performance demands quality sensors.

Large 1X camshaft reluctor provides a
high degree of angular accuracy and resolution.

Adjustable crank sensor mount provides ability to precisely align the 24x Dual Track crank sensor with the crank reluctor. This design ensures you get a solid signal regardless of engine component choice and tolerances. Set it and forget it!

Quality machined components. Sensor to reluctor specifications are measured and precisely achieved during assembly and in pre-shipment testing.

Reliable distributorless ignition (DIS). No rotor based high-tension spark components to fail. Enjoy the benefits of Coil-on-Plug ignition!!

High mechanical RPM reliability and performance.



---
Compatible Design


Our 24XLink conversion kit was designed with mechanical components that allow fitment on any LTx engine. Don't worry about having to source hard to find parts or added expense because your engine is not a specific year.

Your engine is ready now!! Both spline ('92-'94) and pin ('95-'97) Opti-spark drive generations are supported. Our sensing unit is ready for your engine.

All four stock LT crank hub/balancer combinations for different vehicle platforms supported.

ATI Racing hubs and dampers are supported.

​Other crankshaft hub and dampener brands are also supported. Contact us for details.
---
---



Performance with Looks

Get more than just a new ignition system for your LT1. Clean up your engine bay and top it off with our new intake manifold mounted coil pack setup.

We also sell a variety of custom LT1 fuel rail covers.
---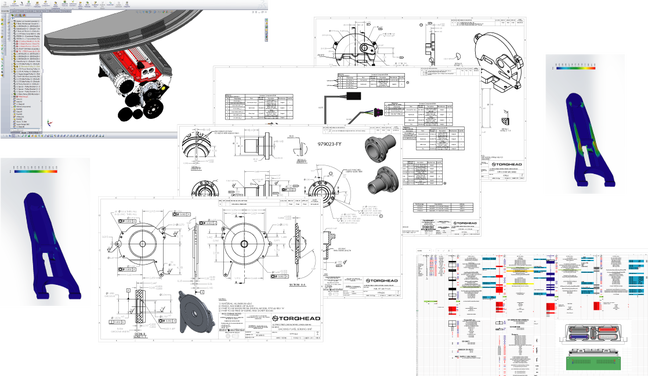 ---
Follow Along!
Keep up to date on our products by joining our mailing list.

Learn more!
Take a more in-depth look at the 24XLINK components

Shop Now!
Take a visit to the store.

Like our page and stay connected with the latest from Torqhead LTD
---
Are you a repair, performance or tuning shop?

Contact us to discuss our installer/re-seller discount program

The performance and quality of our kits, matched with straight forward installation, can allow your shop to offer consistent 24xLink Gen III PCM conversions for the LT1 market in your area
---
Tell us what you think!
Fill out the Torqhead LTD Questionnaire. Help us make more and even better products.

---
100's of LT1/LT4 Engines are running with the Torqhead Gen 3 PCM and Ignition Conversion. Get your conversion today!